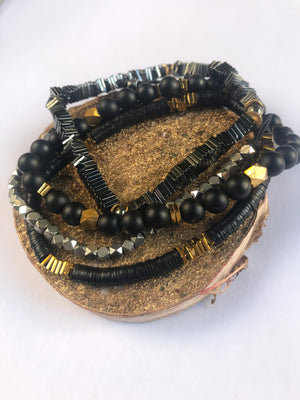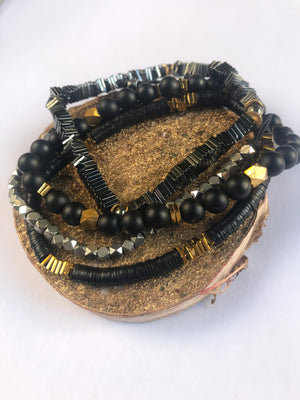 On Sale
Men's Vibranium Bracelets Set of Four
About the product
This set includes 1 Talib bracelet, 1 Khari bracelet, 1 Jabari silver bracelet, and 1 black Kofi bracelet.
TALIB contains gunmetal square hematite beads, 4mm gunmetal round faceted beads, and vermeil beads.
KHARI contains 6mm matte onyx beads, brass faceted beads, and square gold hematite beads.
KOFI contains vinyl beads with square gold hematite beads.
JABARI contains silver tone faceted beads with a sliding knot for adjustability.

To find your wrist size: measure the smallest part of the wrist making sure the tape measure is comfortable and not tight. Add 1/2" or 1" depending on how snug or loose you want the bracelet to fit. Size range: 6.75" - 8.5"
A combination of contemporary and African-inspired jewelry styles, 84Gem offers unique pieces designed to evoke a sense of power, strength and confidence to the wearer. Each design consists of globally sourced, natural materials, gemstones, beads and metals, all handmade in Brooklyn. 
Explore more 84Gem products HERE