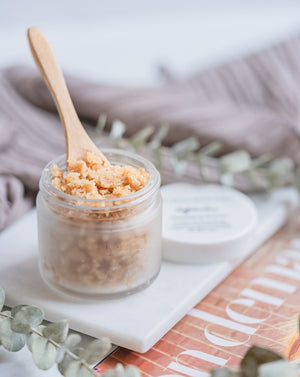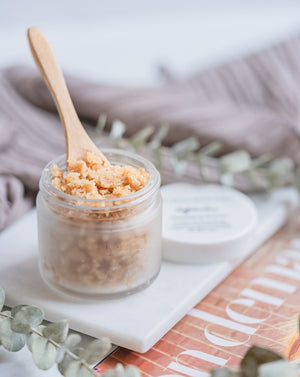 On Sale
Exfoliator Facial Scrub - Peppermint & Rosehips
For Oily to Normal Skin 
Exfoliate and moisturize from neck to forehead with organic Sugar and Coconut oil infused with Herbs. Embrace smooth, glowing skin no matter the time of year. These scrubs are not too oily or greasy and provide intense moisture and clean, clear pores.

Why we love it:
Can be used as a facial scrub to exfoliate dry dull complexion
Helps relieve overactive pores and hydrate dry sensitive skin.
Moisturizes but won't leave you greasy
Can be used weekly 
Infused with Organic Herbs
Ingredients: Saccharum officinarum (Brown Sugar), Cocos nucifera (Coconut) Oil, Mentha piperita (Peppermint) Leaf, Wildflower Honey, Rosa canina (Rose) Hips, Mixed Tocopherols (Vitamin E)
How to Use: Use hands to dispense quarter sized amount. Gently massage onto wet face in circular motions. Rinse clean with warm water and pat dry. Keep water out of container.
2oz