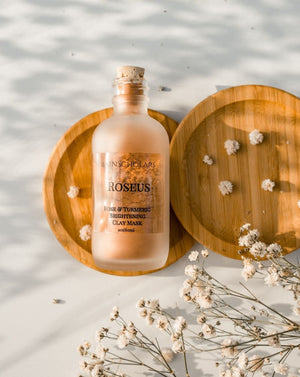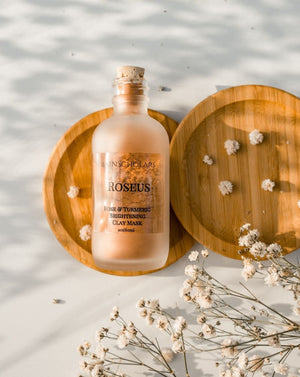 On Sale
Roseus Rose Clay Mask
2oz
Enrich your exfoliating experience with this power pair of Benonite Clay and Red Rose Clay. A delicate cleanse with Red Rose Powder and a powerful brightener with Organic Turmeric Powder. Nourish your skin with hydrating Organic Coconut Milk to enhance your smooth skin.
Clear the Bathroom counter and whip out your best non-metal mixing bowl and make Magic This powerful duo of Rose Clay and Bentonite Clay will leave you with a clean, clear and smooth face. 
Scent Profile: Spicy Turmeric
Dry Texture: Fine Powder
Mixed Texture: Smooth Mud
Ingredients: Rose Clay, Bentonite Clay, Curcuma longa (Turmeric) root powder, Crushed Rosa centifolia (Rose) Petals, Cocos nucifera (Coconut) Milk Powder.
Suggested Use: Mix 1 tbsp of Mask to 1 tbsp of yogurt, water or oil in a small bowl using a wooden spoon or your finger making a paste. Apply an even layer across clean skin, massage gently and let set for 5-10 minutes. Slight tingling and tightness is normal. Wash clean with cool water and apply a serum or facial oil to seal in moisture. 
Gentle enough for weekly use.