eLo | The Artisanal Vegan Lifestyle Brand
eLo is the artisanal vegan lifestyle brand comprised of all-natural lip care products and exquisite alcohol-free cotton fragrances.
Its founder and avid lip balm consumer, Timothy George, launched the brand upon learning that 97% of lip balms on the market contain salicylic acid - a chemical that purposely dries out the lips to encourage frequent consumption. Thus, seeing a need for healthier lip care products.
All products are completely natural and comprised of 6 ingredients or less, which include fruits, naturopathic oils and extracts! No wax. Products are handmade fresh weekly in small batches in Brooklyn, NY.
Clean | No Wax | No Artificial Fragrance | No Dye

Pure and personal, explore your magic.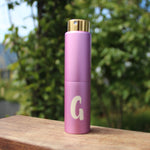 Sold Out
Sold Out