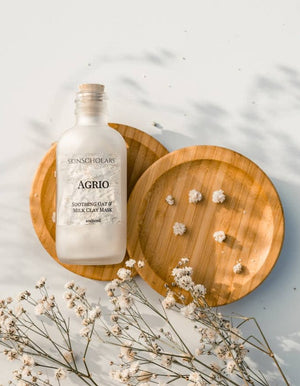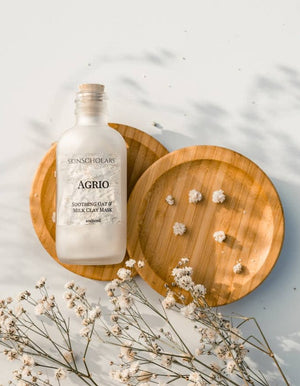 On Sale
Agrio Oat & Milk Mask
2oz 
Close your eyes and feel the sunshine on your skin. You're in a golden field of Wild Oats. Feel the gentle breeze cool your face.
We bottled that experience and bring you the smooth calming blend or Wild Oats, Cooling Goats Milk and Calming Aloe Powder mixed with healing Benonite Clay.
Scent Profile: Oats
Dry Texture: Medium Coarse Powder
Mixed Texture: Slightly Textured Mud
Ingredients: Avena sativa (Oats)*, Natural Benonite Clay, Organic Goats Milk, Aloe vera (Aloe) Powder, Matricaria recutita (Chamomile) flowers
 *Gluten Free (GF)
Suggested Use:  Mix 1 tbsp of Mask to 1 tbsp of honey or water in a small bowl using a wooden spoon or your finger making a paste. Apply across clean skin and massage gently to exfoliate. Let set for 10-15 minutes. A cooling feel and light tightness is normal. Wash clean with cool water and apply a serum or facial oil to seal in moisture. 
Gentle enough for weekly use.