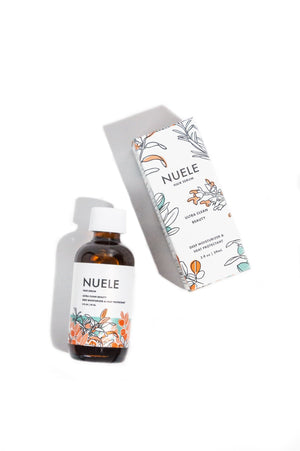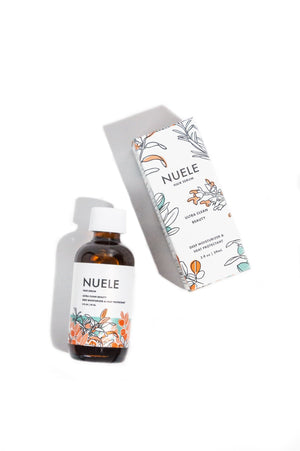 On Sale
Hair Serum
NUELE Hair Serum is a clean, all-in-one, residue-free formula infused with a powerful blend of Jojoba Oil, Argan Oil, Moringa Oil, Rosemary Oil, and Clary Sage that effortlessly detangle, enriches, and protects hair throughout your day. Utilizing the strength of five natural ingredients, this super lightweight serum is perfect for all hair types! It truly transforms your hair by boosting volume and making it easier to style, protecting it from heat, improving scalp health, and promoting hair growth, while providing superior moisture to enhance shine.
Moringa Oleifera Seed Oil - Rich in fatty acids, making it a good moisturizer for hair. Vitamin rich, with healing properties, antioxidant, essential amino acids
Rosemary Oil- Promotes hair growth, improves scalp health, reduces hair loss, and adding shine, due to its stimulating, antifungal, and antioxidant properties
Clary Sage- Balances scalp oils, promoting hair growth, reduces hair loss, and adds shine, due to its calming, antiseptic, and antioxidant properties
Why We Love It This serum's potent ingredients mean that a small amount goes a long way, making it a long-lasting solution. It functions as a moisturizer, heat protector, and nourishing treatment for hair, ideal for reviving curls, taming flyaways, smoothing tangles, hydrating frizzy ends, and avoiding split ends.
How To Use It Ingredients are concentrated. Remember less is more. Best used on damp hair after a wash.
For natural hair styles
Wavy hair : 1-2 drops

Curly hair: 2-8 drops

Coily hair: 4-10 drops
*Add more if your hair is long or very dry
For blowout & flat iron styles
Wavy hair: 1-2 drops

Curly hair: 2-4 drops

Coily hair: 3-6 drops
What To Know The fast-absorbing, lightweight formula in this hair serum has significant multitasking benefits and will be your best friend in hairstyling! It nourishes, strengthens, prevents breakage, and reduces frizz, leaving hair with a non-greasy finish, natural fragrance, and luxurious shine. It's perfect for wash days, in-between washes, on-the-go touch-ups, and stylist-free days.
What Makes It Green This serum is 100% Natural, 100% Organic 100%, Vegan, free of parabens, Phthalates, sulfates, alcohol, and GMOs
Perfect For All hair types
Size 2 oz
Ingredients Simmondsia Chinensis Oil (Jojoba), Moringa Oleifera (Moringa) Seed Oil, Argania Spinosa (Argan) Nut Oil, Rosmarinus Officinalis (Rosemary) Flower Oil, Salvia Sclarea (Clary Sage) Flower and Leaf Oil