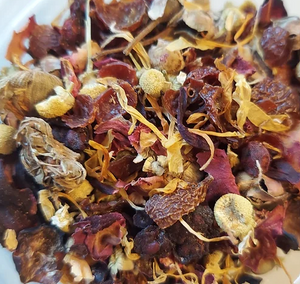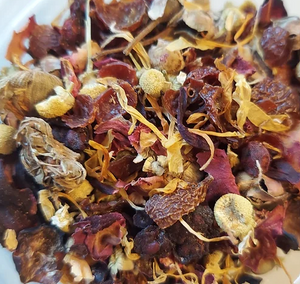 On Sale
"Lady Ikisha" Herbal Tea Blend
Dive into the luscious blend of Lady Ikisha, a symphony of ancient herbs and flowers known for their remarkable benefits and enchanting flavors. This tea blend promises a journey that harmonizes the best of nature's glories in a single cup.
🌹 Rose Petals: More than just a symbol of love, these delicate petals have been savored over the ages for their potential skin-rejuvenating properties. Let the fragrance of love embrace you as you sip.
🌺 Hibiscus: Let this tropical gem tantalize your taste buds, and perhaps support your cardiovascular health along the way.
🌼 Calendula: Revel in the glow of calendula's golden hues and be whisked away to a time when its healing embrace was sought after for various skin ailments.
🍇 Rosehips: A beacon of vitality, these little wonders are brimming with vitamin C, historically acting as immunity guardians when citrus was hard to find.
🍒 Schisandra Berries: Delve into the world of Traditional Chinese Medicine with this treasured berry, believed to possess adaptogenic wonders to shield against life's stresses.
🍃 Chamomile: Let the day melt away with chamomile's calming touch, a tribute to ancient civilizations that turned to its gentle embrace for relaxation.
Crafted for those who seek balance, wellness, and a touch of historical wonder in their brew, Lady Ikisha is more than just a tea. It's an experience.
Order now and let the age-old secrets of Lady Ikisha elevate your tea ritual.
Disclaimer

These statements have not been evaluated by the FDA. This product is not intended to diagnose, treat, cure, or prevent any disease. This tea should be in conjunction with a balanced lifestyle. Pregnant women should avoid using hibiscus.