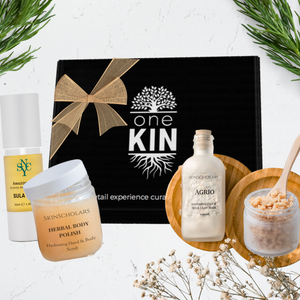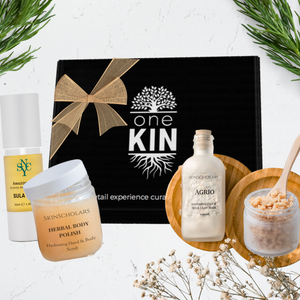 On Sale
Reset & Renew
Gift this luxe pre-made selfcare giftbox designed for busy bodies in need of detoxing and resetting from the weekly grind.
You can also build your own giftbox with our DIY Giftbox Builder!
Included in this giftbox:
A choice of Agrio Oat Milk Mask: Close your eyes and feel the sunshine on your skin. You're in a golden field of Wild Oats. Feel the gentle breeze cool your face. OR Roseus Rose Clay Mask: Enrich your exfoliating experience with this power pair of Benonite Clay and Red Rose Clay. A delicate cleanse with Red Rose Powder and a powerful brightener with Organic Turmeric Powder. Nourish your skin with hydrating Organic Coconut Milk to enhance your smooth skin. OR Terra Clay Mask: Intensify your clean with this Powerful Detoxing Clay Mask. Harness the power of Rhassoul Clay from the Atlas Mountains in Eastern Morocco. The purest and top quality clay mixed with the intense detoxing quality of Activated Coconut Charcoal. (2oz)
Exfoliate and moisturize from neck to forehead with organic Sugar and Coconut oil infused with Herbs. Embrace smooth, glowing skin no matter the time of year. These scrubs are not too oily or greasy and provide intense moisture and clean, clear pores. Choose from Chamomile & Wild Oat Exfoliator Facial Scrub OR Peppermint & Rosehips Exfoliator Facial Scrub. (2oz)
Hydrating Hand and Body Polish Skin Scholars Herbal Body Polish is a gentle, softening and exfoliating scrub that buffs away dead skin and dirt while it moisturizes and heals dry skin. Packed with nutrient rich Raw Coconut Oil, Wildflower Honey and Rosemary Oil nourishes and provides a super-boost to your skin's hydration. Nettle Leaf is a powerful anti-inflammatory and skin tightener while Burdock Leaf promotes the detoxification of your skin and restores your natural glow. 
(4oz)
Amazon Dew Argan Body Oil is a fragranced body oil that leaves skin deeply moisturized and richly scented with botanically-derived ingredients long after application. 
In this scent, a lush blend of Wild Orchids and Rain Lilies come forth with dewy undertones of Jungle Vine, Kaffir Lime, Green Tea and Jacaranda Wood to evoke the freshness of the Amazon Rainforest at dawn. (2oz)