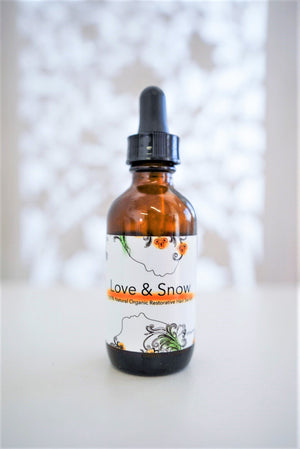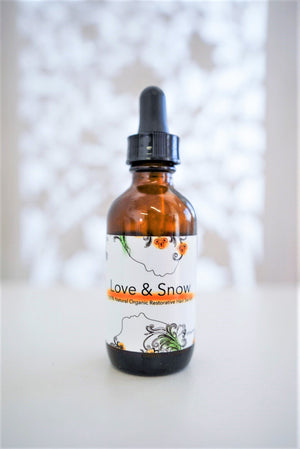 On Sale
Natural Restorative Hair and Scalp Serum (2oz)
Love & Snow 100% Natural Hair and Scalp Serum is a multi-functional, concentrated essential oils formula that leaves your hair and beard hydrated (not oily), shiny, strong, and touchably soft, while promoting hair growth. 
Can be used an overnight treatment, heat protector, and as a pre- and post shave oil to make shaving more comfortable, calm shaving irritation, and reduce in-grown hair.

Scalp, hair and beard are nourished by a blend of jojoba and essential oils rich in:
Antioxidants 

Essential vitamins and minerals including vitamin E and B complex
Combats and protects against:
Frizz, split ends, breakage
Dry, brittle hair
Currently damaged hair and against further damage
Itchy, flaky, dry and oily scalp conditions such as dandruff
Sensitive scalp issues and buildup
Excessive shedding/hair thinning and supports re-growth
All ORGANIC Ingredients:
Simmondsia chinensis, Lavandula angustifolia, Rosmarinus officinalis, Cedrus atlantica, Cananga odorata
Hair & Scalp Directions:
For wet or dry hair place a one (1) dropper tip full of Love & Snow in the palm of your hand and rub together. Start at the scalp, massaging front to back in the scalp.  Then apply the length of the hair root to the tip. Repeat as needed until hair is moisturized throughout but not oily.  Continue with hair regiment, as usual.