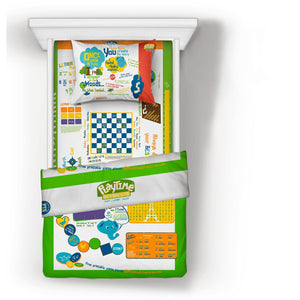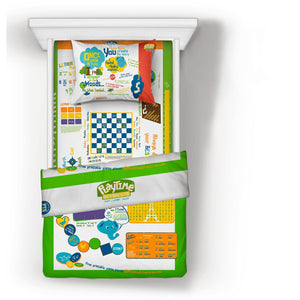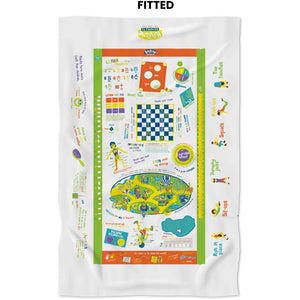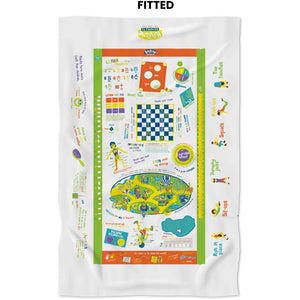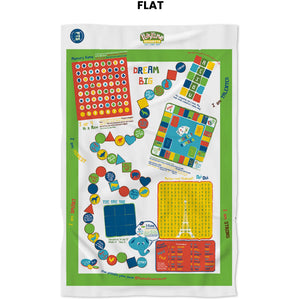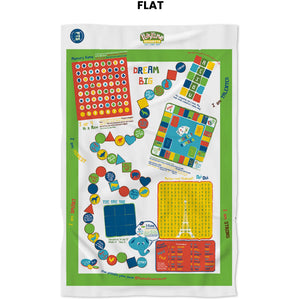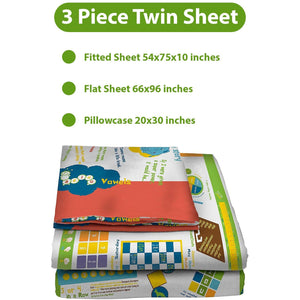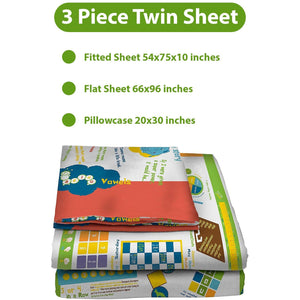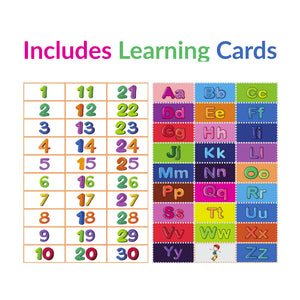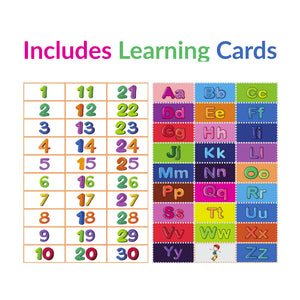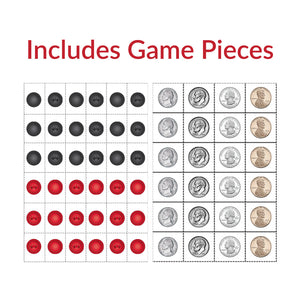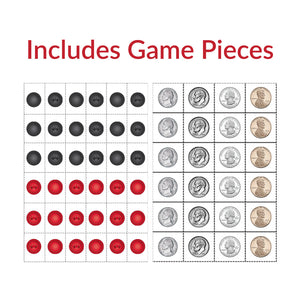 On Sale
Playtime Bed Sheets Twin Sheet Set (Boys & Girls)
Playtime Bed Sheets Twin Sheet Set Boys & Girls - Kids, 3 PCs Cozy Super Soft - Breathable & Fade Resistant Microfiber Sheets - Twin Sheets Have Over 65 Fun Printed Games & Puzzles -12inch Deep Pockets - Unisex Twin Sheet Set
Playtime Bed Sheets 
EXPLORE - PLAY - LEARN - SLEEP - HEAL & JUST BE A KID!
Description
WHAT YOU WILL GET - Designed for kids & tweens. Twin size sheet set includes 1* Easy-to-fold fitted sheet (75" 39" 15") + 1* 

(flat 66 x 96) + 1*

 standard pillowcase (20"30"). 12-inch-deep pockets. Playtime game pieces.

PLAYTIME DESIGN - The Unisex theme 3-piece set twin is designed for playing, learning, and sleeping. The unisex twin sheet set includes over 75 interactive fun games, positive affirmations, bright colors, different languages, over-size game boards, memory games, grammar games, word find games, fun science games, exercise games, and much more!

PARENTS CAN RELAX - Playtime Bed Sheets are the perfect alternative to excessive tv watching, electronic devices, and boredom. Kids will be preoccupied for hours giving parents much-needed rest. Also, a great tool to get kids to sleep in their own beds. And all games stay on the bed and not on the floor.

HOW TO CLEAN - Crafted from premium double-brushed microfiber with amazing softness and comfort, cool in summer and warm in winter. Comfortable, Breathable, and Durable. No Fade, Machine wash in cold, tumble-dry heat.

GREAT GIFT- Playtime Bed Sheets are the perfect gift to magically transform any kids' bedroom, RV bed, hospital bed, pediatric bed, shelter bed, camp bed, foster bed, or vacation bed into an Edventure!

YOUR PURCHASE MATTERS - When you purchase a set of Playtime Bed Sheets you provide an opportunity for Playtime Edventures to donate Playtime Bed Sheets to organizations that provide safe beds to displaced kids and families. Over 7000 Playtime Bed Sheets donated and growing.
Interactive Bedding for Kids!
We created Playtime Bed Sheets for kids confined to long stays in the Hospital! But, soon realized Playtime Bed Sheets were just what the doctor ordered for kids everywhere! Created by passionate teachers, parents and kids Playtime Bed Sheets boost over 75 interactive games for everyone to explore, play, learn, sleep, and just be a kid on! Playtime Bed Sheets are the perfect alternative to excessive TV watching and electronic devices. Playtime Bed Sheets provide the perfect structure for bedtime through one activity then lights out! Enjoy playing on oversize game boards, exploring different languages, playing math games, geography games, word find games, and much, more! 
Additional information
| | |
| --- | --- |
| Great for | Twin 3 piece includes One fitted, one flat, one reversible pillowcase, Perfect for Kid's bedrooms, Hospitals, Children's Hospices, Orphanage, Foster homes, Camping, RVs, Hotels, Airbnb, Bunk Beds, Elderly, Air mattresses, Juvenile Detention Centers, Women's shelters. |
| Mission | Playtime Bed Sheets was founded on the philosophy of being a purpose-driven company. Donating our interactive bed sheets and slumber bags to Hospitals and Organizations that provide safe beds to displaced kids all over the world. Your purchase for home use provides opportunities for Playtime Edventures to donate to these organizations. Thank you! |