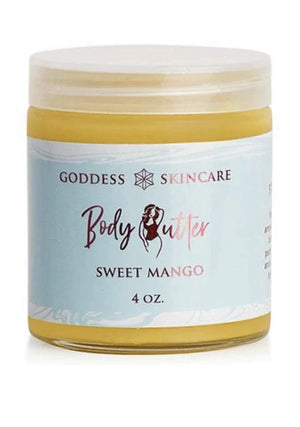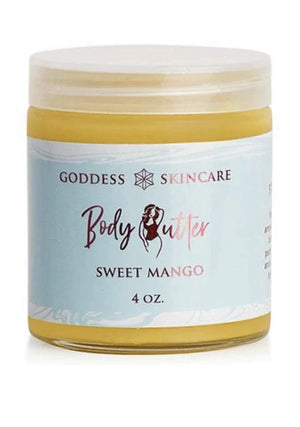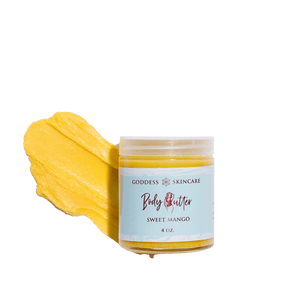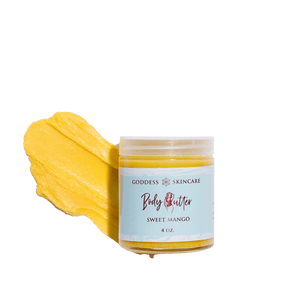 On Sale
Sweet Mango Body Butter
The blend of raw butter and essential oils in this nourishing Sweet Mango Body Butter quickly absorbs into the skin relieving the skin of any dry, tight, and itchy feeling. The rich mango scent is a sensory adventure while your body experiences a one-way ticket to more soft and radiant skin. This body butter is an excellent addition to your self-care routine and is infused with powerful ancient recipes of organic Shea butter, mango butter, jojoba oil, and coconut oil. At the same time, you can enjoy a sweet treat for your skin that's a hydrating pleasure. Mango butter- Contains vitamin A, an antioxidant that protects the skin against free radicals and stimulates its natural renewal process while improving overall health and appearance. Jojoba oil- Easily absorbed by our skin, the vitamins and antioxidants will leave the skin looking soft and feeling hydrated. Coconut oil- Full of fatty acids and works as an emollient (moisturizer) to soften the skin
Why We Love It We love an organic moisturizing body butter that's made for dry skin but suitable for all skin types. With a soft creamy texture and natural sweet fragrance from the mango butter, it provides deep nourishment and visible elasticity to tired skin without the greasy feeling.
How To Use It Apply all over the body and massage with circular movements to facilitate absorption. Applying to damp skin can make the product go further, last longer and absorb better. Can also be used on dry areas such as the elbows, hands, legs and feet.
What To Know Body butter is a must-have item for any bathroom shelf, especially if you want to keep your skin hydrated and glowing! It provides a protective barrier around the skin - keeping all the moisture locked in so fewer applications are needed. You can count on this mango body butter to be a sweet treat that melts like butter penetrating directly into the skin.
What Makes It Green Cruelty-free. The Mango Body Butter utilizes ancient skin preserving remedies and is made with 100% organic mango butter, shea butter, jojoba and coconut oil.
Perfect For Combination, Dry, Oily, and Mature Skin Types
Size 4oz
Ingredients Shea butter, mango butter, jojoba oil, coconut oil, prickly pear seed oil, and mango fragrance oils.