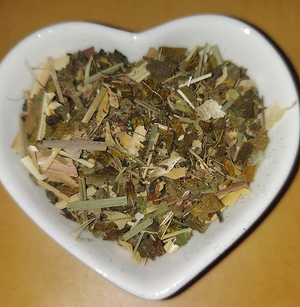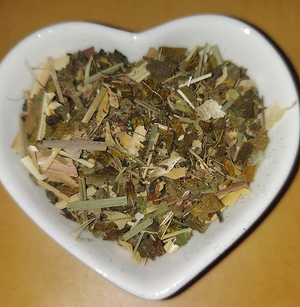 On Sale
Girl, Get Your Mind Right
Introducing "Girl, Get Your Mind Right" Caffeine-Free Herbal Tea Blend - Your Path to Inner Peace!
Life can get hectic, and sometimes, we only need a moment to unwind and find our inner calm. Our carefully crafted herbal tea blend is here to help you do just that. "Girl, Get Your Mind Right" is your go-to de-stressor blend, packed with a soothing combination of organic ingredients known for their calming and mood-lifting properties.
Ingredients (all organic):
St. John's Wort: St. John's Wort has long been recognized for its potential to alleviate symptoms of mild to moderate depression and anxiety. It's a natural mood booster that can help you find your equilibrium.
Birch Leaves: Birch leaves are rich in antioxidants and have anti-inflammatory properties, making them a valuable addition to stress relief. They contribute to a sense of calm and relaxation.
Bean Peels: Bean peels contain essential amino acids and can help regulate serotonin levels in the brain, promoting a sense of well-being and reducing stress.
Mistletoe: Mistletoe has been used in traditional medicine for its calming effects. It can help soothe the nervous system and ease stress-related tension.
Ginkgo Leaves: Ginkgo leaves are known for their cognitive benefits and can enhance mental clarity. This herb can help you stay focused and reduce mental fatigue.
Nettle Leaves: Nettle leaves are rich in nutrients and can support overall health. They may help reduce inflammation and contribute to a sense of vitality.
Lemongrass: Lemongrass adds a delightful citrusy note to your tea, enhancing the overall flavor while offering relaxation and stress relief.

Health Benefits:
Reducing Stress: "Girl, Get Your Mind Right" Herbal Tea is carefully crafted to provide you with moments of serenity. The combination of these organic herbs is designed to calm your nerves, reduce stress, and bring about a sense of inner peace.

Depression Support: Some ingredients, such as St. John's Wort, have been associated with alleviating mild to moderate depression symptoms. However, it's essential to consult with a healthcare professional if you are taking medication for depression, as St. John's Wort may interact with certain drugs.
Discover the soothing and calming effects of our caffeine-free herbal tea blend. Let "Girl, Get Your Mind Right" be your daily ritual for unwinding and finding your inner balance. Please note that while our tea can provide natural support for stress reduction and mood enhancement if you are currently on depression medication, it's crucial to consult your healthcare provider before incorporating this herbal blend into your routine to ensure your well-being and safety.
A Step towards a more peaceful mind and a happier, healthier you. Order the "Girl, Get Your Mind Right" Herbal Tea Blend today and embark on a journey toward tranquility and emotional well-being.
Disclaimer

These statements have not been evaluated by the FDA. This product is not intended to diagnose, treat, cure, or prevent any disease. This tea should be in conjunction with a balanced lifestyle.