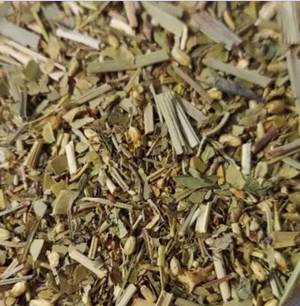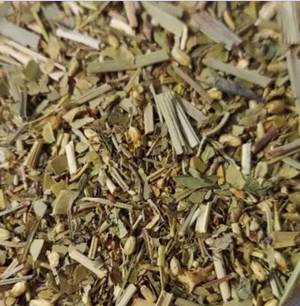 On Sale
Look Great Naked Slimming Blend
Introducing the "Look Great Naked Slimming Blend" – Your Path to a Healthier, Happier You!
Are you ready to embark on a journey to a slimmer, healthier, and more confident you? Look no further! Our carefully crafted herbal tea blend is designed to help you achieve your wellness goals, and so much more. The "Look Great Naked Slimming Blend" is a powerhouse of organic ingredients, each carefully chosen for its unique health benefits. Let's explore how this remarkable blend can help you shed unwanted pounds and promote overall well-being.
Ingredients (all organic):
Yerba Mate: Yerba Mate is a natural metabolism booster that helps your body burn calories more efficiently. It also provides an energy kick without the jitters and supports weight loss.
Lemongrass: Lemongrass aids digestion and reduces bloating, helping you feel lighter and more comfortable. It also adds a delightful citrusy flavor to your tea.
Verbena: Verbena is known for its calming effect on the digestive system. It helps alleviate digestive discomfort and promotes a healthy gut.
Lemon Peels: Lemon peels are rich in antioxidants and vitamin C, which can help detoxify your body and support your immune system. They also add a zesty twist to your tea.
Yarrow: Yarrow has anti-inflammatory properties that can help reduce inflammation and bloating, making it ideal for those with digestive issues.
Spearmint: Spearmint is a natural appetite suppressant that can help curb your cravings, making it easier to stick to your weight loss goals.
Rosemary: Rosemary supports digestion and can help reduce inflammation in the gut, making it an excellent choice for those with IBS or other digestive concerns.

Health Benefits:
Weight Loss: Our herbal tea blend is packed with ingredients like Yerba Mate, Spearmint, and Lemon Peels, which are known for their metabolism-boosting and appetite-suppressing properties. This blend can help you burn fat, reduce cravings, and achieve your weight loss goals.

Digestive Health: Lemongrass, Verbena, and Rosemary work together to support a healthy digestive system. They can help alleviate bloating, improve digestion, and ease discomfort associated with digestive issues like IBS.

Inflammation Reduction: Yarrow and Rosemary have anti-inflammatory properties that can help reduce inflammation in the gut and throughout the body. This can lead to improved overall health and well-being.
Experience the incredible benefits of our "Look Great Naked Slimming Blend." This herbal tea is not only a delicious and refreshing beverage but also a powerful tool to enhance your weight loss journey, support your digestive health, and reduce inflammation. With every sip, you're one step closer to a healthier and more confident you.
Unlock your full potential and start your wellness transformation today. Order "Look Great Naked Slimming Blend" Herbal Tea and take the first step toward a healthier, more vibrant you. Cheers to your well-being!
Disclaimer

These statements have not been evaluated by the FDA. This product is not intended to diagnose, treat, cure, or prevent any disease. This tea should be in conjunction with a balanced lifestyle.