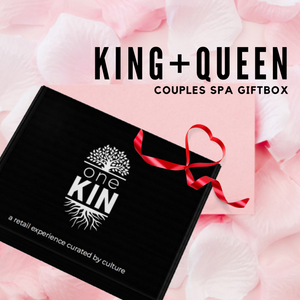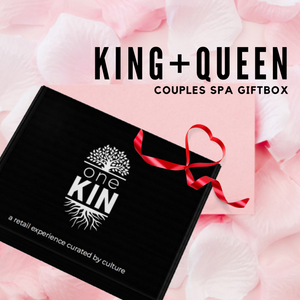 On Sale
King + Queen Couples Spa GiftBox
An in-home spa for the power couple!  
Exfoliator Facial Scrub: Exfoliate and moisturize from neck to forehead with organic Sugar and Coconut oil infused with Herbs. (2oz) x 2
Body Oil Mist: This amazing hydrating body oil mist is perfect for hydration fresh out of the shower or on the go. (4oz)
Thirteen Replenishing  Facial Serum Hydrate, moisturize, and cleanse for healthier, more youthful looking skin; that's the promise of our 13 Replenishing Facial Serum. Unlike conventional cosmetic products, the 13 Facial Serum harnesses the skin-rejuvenating properties of 13 essential oils.
Luxury Cotton Spray: GLORIA: Enjoy the vivid blend of Chrysanthemum, Rose Quartz, Vanilla and Tonka Bean. & MARQUIS: Elevate your senses with the elegant and debonair essence of MARQUIS. Rich in a fine blend of Fig, Plum, Vetiver, and Cassis. (1oz)