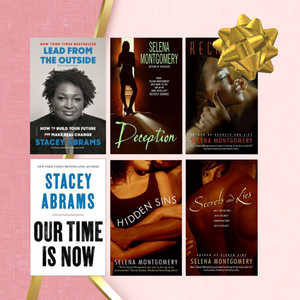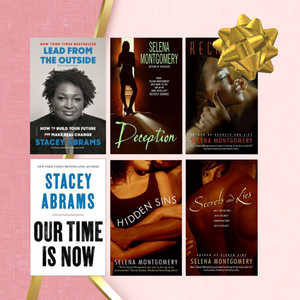 On Sale
The Mutlifaceted Stacey Abrams
the Stacey Abrams / Selena Montgomery Collection
Lead From the Outside: How to Build Your Future and Make Real Change Leadership is hard. Convincing others―and yourself―that you are capable of taking charge and achieving more requires insight and courage. Lead from the Outside is the handbook...
Our Time Is Now: Power, Purpose, and the Fight for a Fair America A recognized expert on fair voting and civic engagement, Abrams chronicles a chilling account of how the right to vote and the principle of democracy have been and continue to be under attack...                                                                                                                                                                                                  

Reckless Kell Jameson has the life she's always dreamed about. A partner at a prestigious Atlanta law firm that represents famous—of guilty—clients, she's far from her days as a lonely orphan in rural Georgia. But one frantic phone call will bring her back to the place she's spent years trying to escape.
Deception Playing the odds has always been Fin Borders' forte. As a professional poker player, she knows when to get out to keep from losing everything. But an innocent woman has been accused of murder, and to help, Fin will have to go back to the small southern town of her birth.
Hidden Sins Mara Reed has been stirring up trouble since she was eighteen—running scams, living on the edge, always on the run. Now, when two thugs are after her with murder on their minds, she's forced into hiding...
 Secrets & Lies She may be smart and beautiful, but she's also standing between him and a very lucrative item he needs to "recover" in this African-American love story that blends passion with action that is sure to thrill romance readers.