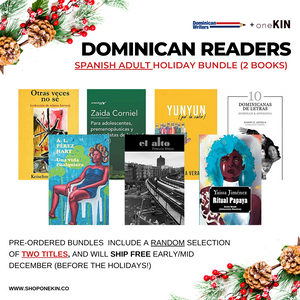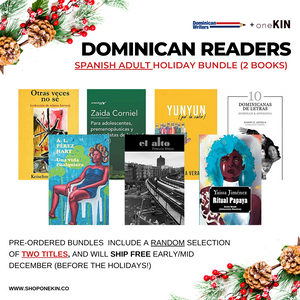 On Sale
(PRE-ORDER) Dominican Readers: SPANISH Adult Bundle
PLEASE READ: Bundles are available in limited quantities for preorder NOW until supplies last. Bundles will not come in boxes and they are not customizable. They will include a random selection of TWO BOOKS, and will ship early/mid December or as they become available (before the Holidays). ***FREE SHIPPING!
Check out our special 'Lil Dominican Readers Holiday Bundles for children, young adults, and Spanish/English-speaking adults too! 
"I didn't read books by Dominican authors until I was in my 20s, and it's a shame because I feel that if I had read books with characters I could identify with, I would have felt affirmed and validated in this world. With 'Lil Dominican readers we hope to create a similar impact in the lives of your child. May this collection of books inspire them to continue reading our stories." - Angela Abreu, Founder & Creative Director of Dominican Writers Association

This holiday season, Dominican Writers Association and oneKIN are teaming again to share the rich stories and diverse voices of both traditionally-published and indie Dominican-American authors. For the holidays only, you can now also gift your loved ones our curated Dominican Readers literary bundles for Spanish-speaking adults.
The Spanish Adult Holiday Literary Bundles will include a total of 2 titles selected from the curated list of books below:
10 Dominicanas de Letras: Homenaje & Antología, by Kianny N. Antigua - 

10 dominicanas de letras. Homenaje & antología es una oda, un aliciente literario. Este texto reúne a diez transcendentales escritoras dominicanas que han residido o residen en el extranjero. Ellas son Camila Henríquez Ureña, Rhina Espaillat, Mélida García, Osiris Mosquea, Josefina Báez, Aurora Arias, Yrene Santos, Marianela Medrano, Rosa Silverio y Sussy Santana. Además de incluir poesía, cuento y microcuento de estas escritoras, el libro también contiene textos literarios, de ficción y anecdóticos que celebran la grandeza, el talento o algún aspecto especial en la vida de estas escritoras. Homenajes escritos por escritores y escritoras también con excelsas trayectorias literarias.
El Alto, by Francis Mateo - "El Alto" ofrece una lectura incisiva sobre la cotidianidad, los sueños y despertares el universo dominican-york, en uno de sus autores más refinados, Francis Mateo, actor y poeta.
Otras veces no sé (colección de relatos breves), by Keiselim A Montás - En su conjunto, estos relatos abordan tanto la cotidianeidad de la vida en la patria adoptiva como en la patria natal, con sus dificultades, complejidades y absurdos; mientras que por igual juega con cruzar la línea divisora entre el sueño y la realidad. Estos relatos plantean conflictos humanos y debilidades, a la vez que contienen una mirada explícita a ciertas construcciones sociales como el patriarcado, la pobreza, la emigración, etc. Todo en un lenguaje a veces cargado de oralidad popular y que, mediante recursos narrativos, explora tramas que rozan el absurdo y se adentran en la condición humana.
Para adolescentes, premenopáusicas y especialistas de la salud (Cuentos), by Zaida Corniel - This long-awaited collection of short stories by New York based Dominican author and scholar Zaida Corniel is bound to become a contemporary classic. These twelve stories are simply masterful narrations representing the complexity and richness of the feminine experience in our times. Esta muy esperada colección de cuentos de la escritora y académica dominicana, residente en Nueva York, Zaida Corniel está destinada a convertirse en un clásico contemporáneo. Son doce historias narradas de forma magistral en las que se revela la compejidad y riqueza de la experiencia femina en nuestra época.
Ritual Papaya, by Yaissa Jimenez - Con una voz poética espontánea, altanera, a veces refrescante, otras veces siniestra, Yaissa Jiménez elabora su Ritual Papaya, un compendio lírico en el que cultiva un misticismo afro oriundo de Los Mina, abonado con la afilada cimarronería de "aquel lao".
Una Vida Cualquiera, by A.L. Perez Hart - Madre e hija conversan sobre el destino del padre ausente mientras lavan la ropa en un traspatio. Un sanguinario policía se apresta a darle a su esposa una terrible noticia. Una mujer maltratada cree haber descubierto la manera de neutralizar a su abusador. Una matrimonio de clase alta se ve en el aprieto de tener que recalibrar el objeto de su deseo y redefinir el lazo que los une. El diablo visita a un niño cada vez que puede... hasta un buen día en que el niño lo toma por los cuernos. Clínica, acuciosa, juguetona, despiadada e inusitadamente moral, A. L. Pérez Hart atrapa en ámbar las estampas vitales que componen Una vida cualquiera —cual retratos en alta definición o minuciosos dioramas— valiéndose de un dominio de la lengua, unas dotes de observación y una implementación de la experiencia que la confirman como una de las voces más interesantes de la novísima narrativa caribeña.
Yun Yun (la' la calor), by Karlina Veras - 

"Con una prosa juguetona y rítmica, Karlina Veras logra transportarnos a un Caribe repleto de fantasías. Se trata de un debut repleto de vida y energía, compuesto por una treintena de microrelatos que se inscriben en lo mejor de la tradición del cuento corto. Si Monterroso hubiese nacido en la República Dominicana, tal vez hubiese escrito estos cuentos. Y nosotros, los lectores, le estamos agradecidos a Karlina Veras por semejante logro. No queda otra: recomiendo sinceramente la lectura de este libro."- Carlos Fonseca