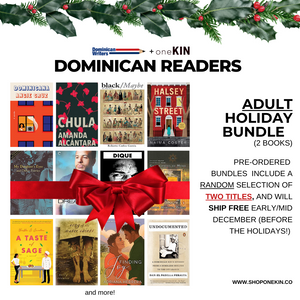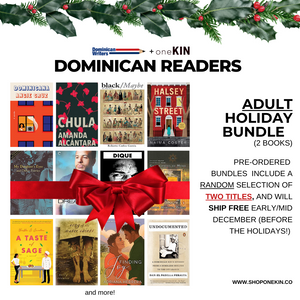 On Sale
(PRE-ORDER) Dominican Readers: English Adult Bundle
PLEASE READ: Bundles are available in limited quantities for preorder NOW until supplies last. Bundles will not come in boxes and they are not customizable. They will include a random selection of TWO BOOKS, and will ship early/mid December or as they become available (before the Holidays). ***FREE SHIPPING!
Check out our special 'Lil Dominican Readers Holiday Bundles for children, young adults, and Spanish/English-speaking adults too! 
"I didn't read books by Dominican authors until I was in my 20s, and it's a shame because I feel that if I had read books with characters I could identify with, I would have felt affirmed and validated in this world. With 'Lil Dominican readers we hope to create a similar impact in the lives of your child. May this collection of books inspire them to continue reading our stories." - Angela Abreu, Founder & Creative Director of Dominican Writers Association

This holiday season, Dominican Writers Association and oneKIN are teaming again to share the rich stories and diverse voices of both traditionally-published and indie Dominican-American authors. For the holidays only, you can now also gift your loved ones our curated Dominican Readers literary bundles for Adults.
The Adult Holiday Literary Bundles will include a total of 2 titles selected from the curated list of books below:
A Taste  of Sage, by Yaffa Santos - From talented new writer, Yaffa S. Santos, comes this unforgettable, heartwarming, and hilarious rom-com about chefs, cooking, love, and self-discovery that is a cross between The Hating Game and Sweetbitter.
American Dreamer, by Adriana Herrera - For Nesto Vasquez, moving his Afro-Caribbean food truck from New York City to the wilds of Upstate New York is a huge gamble. Jude Fuller is proud of the life he's built on the banks of Cayuga Lake. And it's damn lonely. Until he tries Ithaca's most-talked-about new lunch spot and works up the courage to flirt with the handsome owner. Soon he can't get enough—of Nesto's food or of Nesto. An opportunity too good to pass up could mean a way to stay together and an incredible future for them both…if Nesto can remember happiness isn't always measured by business success.
American Fairytale, by Adriana Herrera - New York City social worker Camilo Santiago Briggs grew up surrounded by survivors who taught him to never rely on anything you didn't earn yourself. He's always dreamed of his own happily-ever-after, but he lives in the real world. Men who seem too good to be true…usually are. And Milo never ever mixes business with pleasure…until the mysterious man he had an unforgettable hookup with turns out to be the wealthy donor behind his agency's new, next-level funding.
American Love Story, by Adriana Herrera - Haitian-born professor and activist Patrice Denis is not here for anything that will veer him off the path he's worked so hard for. One particularly dangerous distraction: Easton Archer, the assistant district attorney who last summer gave Patrice some of the most intense nights of his life, and still makes him all but forget they're from two completely different worlds. 
American Sweethearts, by Adriana Herrera - Juan Pablo Campos doesn't do regrets. He's living the dream as a physical therapist with his beloved New York Yankees. He has the best friends and family in the world and simply no time to dwell on what could've been. Except when it comes to Priscilla, the childhood friend he's loved for what seems like forever. New York City police detective Priscilla Gutierrez has never been afraid to go after what she wants. But lately, the once-clear vision she had for herself—her career, her relationships, her life—is no longer what she wants. The future they dreamed of together is still within reach...if they can just accept each other as they are.
black/Maybe, by Roberto Carlos Garcia - Poetry collection that explores themes of blackness and Dominican culture. 
Chula, by Amanda Alcantara - Amanda Alcántara"Chula" is an imaginative bilingual collection of intimate poems, short stories, memories and vignettes about the life of a Dominicana before and after moving to the United States. Dealing with childhood curiosities, struggles faced by women, identity, pleasures, heartache, and joy, this work is an exploration of self.
Dique Dominican, by Ayendy Bonifacio - Told through a series of flashbacks and vignettes, Dique Dominican is Ayendy Bonifacio's memoir. His coming-of-age is the story of so many immigrants--the undocumented, the poor, the oppressed, and the unafraid--how he went from no electricity to bright lights in the Big Apple, beat his circumstances while never losing his Dominican dreams. Ultimately, this is his story of rebirth and reconciliation, how he found truth in his difference, enlightenment in his words.
Dominicana, by Angie Cruz - a vital portrait of the immigrant experience and the timeless coming-of-age story of a young woman finding her voice in the world. Fifteen-year-old Ana Cancion never dreamed of moving to America, the way the girls she grew up with in the Dominican countryside did. But when Juan Ruiz proposes and promises to take her to New York City, she has to say yes. It doesn't matter that he is twice her age, that there is no love between them. Their marriage is an opportunity for her entire close-knit family to eventually immigrate. So on New Year's Day, 1965, Ana leaves behind everything she knows and becomes Ana Ruiz, a wife confined to a cold six-floor walk-up in Washington Heights. As the Dominican Republic slides into political turmoil, Juan returns to protect his family's assets, leaving Cesar to take care of Ana. When Juan returns, Ana must decide once again between her heart and her duty to her family.
Finding Joy, by Adriana Herrera - a romance that captures the joy found in being seen as you are. Desta, a Dominican-American emergency relief worker, finds himself confronting the loss of his father and the ways he's attempted to live up to his memory when he returns to Ethiopia for work. It's there he meets Elias, his Ethiopian coworker with a smile (and eyebrows) he can't get enough of. Rediscovering his country through Desta's eyes emboldens Elias to reach for a future where he can be open about every part of himself. But when something threatens the future that's within their grasp, Elias and Desta must put it all on the line for love.
Geographies of Home, by Loida Maritza Perez - After leaving the college she'd attended to escape her religiously conservative parents, Iliana, a first-generation Dominican-American woman, returns home to Brooklyn to find that her family is falling apart: one sister is careening toward mental collapse, another sister is living in a decrepit building with her abusive husband and three children, and a third sister has simply disappeared. In this dislocating urban environment Iliana reluctantly confronts the anger and desperation that seem to seep through every crack of her family's small house, and experiences all the contradictions, superstitions, joys, and pains that come from a life caught between two cultures.
Halsey Street, by Naima Coster - a collection of folkloric poems centered on the historical, mythological, gendered, and geographic experiences of a first generation American woman. From the border in the Dominican Republic, to the bustling streets of New York City, Acevedo considers how some bodies must walk through the world as beastly beings. How these forgotten myths be both blessing and birthright.

My Daughter's Eyes, by Annecy Baez - 

a collection of fourteen interrelated stories about young Dominican women living in the Bronx as they deal with the choices they make in their everyday life. These stories span three decades, beginning in the 1970s, and their topics range from mother-daughter struggles, father-daughter betrayal, family, and child abuse, to emerging sexuality, love, loss, and healing. Annecy Baez's daring treatment of taboo themes, such as sexual child abuse and the struggle of the individual against restrictive traditional values, makes this book unique in Dominican fiction.
Song of the Water Saints, by Nelly Rosario - This vibrant, provocative début novel explores the dreams and struggles of three generations of Dominican women. Graciela, born on the outskirts of Santo Domingo at the turn of the century, is a headstrong adventuress who comes of age during the U.S. occupation. Too poor to travel beyond her imagination, she is frustrated by the monotony of her life, which erodes her love affairs and her relationship with Mercedes, her daughter. Mercedes, abandoned by Graciela at thirteen, turns to religion for solace and, after managing to keep a shop alive during the Trujillo dictatorship, emigrates to New York with her husband and granddaughter, Leila. Leila inherits her great-grandmother Graciela's passion-driven recklessness. But, caught as she is between cultures, her freedom arrives with its own set of obligations and dangers.
Undocumented: A Dominican Boy's Odyssey, by Dan-El Padilla Peralta - An undocumented immigrant's journey from a New York City homeless shelter to the top of his Princeton class. Undocumented is a classic story of the triumph of the human spirit. It also is the perfect cri de coeur for the debate on comprehensive immigration reform.