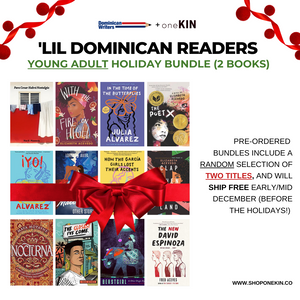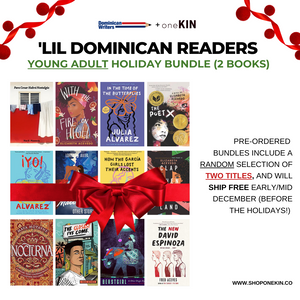 On Sale
(PRE-ORDER) 'Lil Dominican Readers: Young Adult Bundle
PLEASE READ: Bundles are available in limited quantities for preorder NOW until supplies last. Bundles will not come in boxes and they are not customizable. They will include a random selection of TWO BOOKS, and will ship early/mid December or as they become available (before the Holidays). ***FREE SHIPPING!
Check out our special 'Lil Dominican Readers Holiday Bundles for children, young adults, and Spanish/English-speaking adults too! 
"I didn't read books by Dominican authors until I was in my 20s, and it's a shame because I feel that if I had read books with characters I could identify with, I would have felt affirmed and validated in this world. With 'Lil Dominican readers we hope to create a similar impact in the lives of your child. May this collection of books inspire them to continue reading our stories." - Angela Abreu, Founder & Creative Director of Dominican Writers Association

This holiday season, Dominican Writers Association and oneKIN are teaming again to share the rich stories and diverse voices of both traditionally-published and indie Dominican-American authors. For the holidays only, you can gift the young minds of your loved ones with our curated 'Lil Dominican Readers literary bundles for Young Adults.
The Kid's Holiday Literary Bundles will include a total of 2 titles selected from the curated list of books below:
Beastgirl & Other Origin Myths, by Elizabeth Acevedo - a collection of folkloric poems centered on the historical, mythological, gendered, and geographic experiences of a first generation American woman. From the border in the Dominican Republic, to the bustling streets of New York City, Acevedo considers how some bodies must walk through the world as beastly beings. How these forgotten myths be both blessing and birthright.

Clap When You Land, by Elizabeth Acevedo - In a novel-in-verse that brims with grief and love, National Book Award-winning and New York Times bestselling author Elizabeth Acevedo writes about the devastation of loss, the difficulty of forgiveness, and the bittersweet bonds that shape our lives. 

In the Time of the Butterflies, by Julia Alvarez - In this extraordinary novel, the voices of all four sisters--Minerva, Patria, María Teresa, and the survivor, Dedé--speak across the decades to tell their own stories, from secret crushes to gunrunning, and to describe the everyday horrors of life under Rafael Trujillo's rule. 

How the Garcia Girls Lost their Accents, by Julia Alvarez - Acclaimed writer Julia Alvarez's beloved first novel gives voice to four sisters as they grow up in two cultures. The García sisters—Carla, Sandra, Yolanda, and Sofía—and their family must flee their home in the Dominican Republic after their father's role in an attempt to overthrow brutal dictator Rafael Trujillo is discovered.  Here they tell their stories about being at home—and not at home—in America.
Malcriada & Other Stories, by Lorraine Avila  - In the middle of the Caribbean Sea, aboard an illegal voyage from the Dominican Republic to Puerto Rico, a twelve year old learns her name; a former cacao farmer finds a constellation on his lover's thighs; best friends become strangers and find the essence of themselves in the face of deception; an old man exchanges his homeland for a New York City bodega storefront; preteen boys grapple with authority; female cousins come to terms with their first shared sexual experience; an alcoholic woman finds serenity at the bottom of the sea; feminism is deconstructed by opposing views; on the back of a motorcycle, self-awareness is found; and a woman discovers that healing is a series of choices.
Nocturna, by Maya Motayne - The first in a sweeping and epic own voices debut fantasy trilogy—set in a stunning Latinx-inspired world—about a face-changing thief and a risk-taking prince who must team up to defeat a powerful evil they accidentally unleashed. This young adult novel is an excellent choice for accelerated tween readers in grades 7 to 8, especially during homeschooling. 
Para Cenar Habra Nostalgia, by Fior E. Plasencia - The agony of being an immigrant and not being in a constant place is spilled wrathfully and fairly on the pages of Para Cenar Habrá Nostalgia. In the midst of arrival procedures, fatigued train rides, living adaptations, and a very loud Dominican accent, Fior E. Plasencia presents a collection of poems that excavates the damage experienced since she and her family departed from the Dominican Republic to the United States.
The Closest I've Come, by Fred Aceves - Marcos Rivas yearns for love, a working cell phone, and maybe a pair of sneakers that aren't falling apart. But more than anything, Marcos wants to get out of Maesta, his hood, away from his indifferent mom and her abusive boyfriend—which seems impossible. The Closest I've Come is a story about traversing real and imagined boundaries, about discovering new things in the world, and about discovering yourself, too.
The New David Espinoza, by Fred Aceves - This own voices story from the acclaimed author of The Closest I've Come unflinchingly examines steroid abuse and male body dysmorphia. David Espinoza is tired of being messed with. When a video of him getting knocked down by a bully's slap goes viral at the end of junior year, David vows to use the summer to bulk up— do what it takes to become a man—and wow everyone when school starts again the fall.
The Poet X, by Elizabeth Acevedo - New York Times-bestselling novel-in-verse by an award-winning slam poet, about an Afro-Latina heroine who tells her story with blazing words and powerful truth. Xiomara Batista feels unheard and unable to hide in her Harlem neighborhood. Ever since her body grew into curves, she has learned to let her fists and her fierceness do the talking. Because in the face of a world that may not want to hear her, Xiomara refuses to be silent.
With the Fire on High, by Elizabeth Acevedo - From the New York Times bestselling author of the National Book Award-winning title The Poet X comes a dazzling novel in prose about a girl with talent, pride, and a drive to feed the soul that keeps her fire burning bright.
Yo!, by Julia Alvarez - Yolanda García-Yo, for short-is the literary one in the family. Her first published novel, in which uses as characters practically everyone she knows, was a big success. Now she's basking in the spotlight while those "characters" find their very recognizable selves dangling in that same blinding light