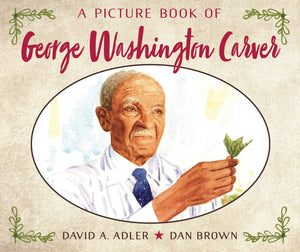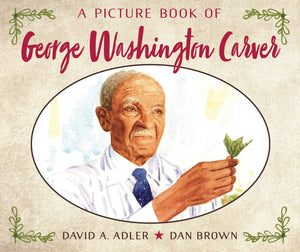 On Sale
A Picture Book of George Washington Carver
by David A. Adler  (Author), Dan Brown (Illustrator)

Born a slave, he became a leading scientist.

This is the inspiring story of the pioneering African-American teacher, scientist, and artist. Carver is perhaps best known for his scientific work with peanuts and sweet potatoes (and for inventing peanut butter!), but Time magazine also called him the "Black Leonardo" for his painting. Adler tells of Carver's work at the Tuskegee Institute with Booker T. Washington, his hard childhood, and his determination to learn despite many obstacles,

A man of deep faith, Carver worked throughout his life to create scientific discoveries that would improve the lives of Southerners--especially African Americans. 

The colorful illustrations show Carver in all stages of his life and give children insight to Carver's world.

For almost thirty years, David Adler's Picture Book Biography series has profiled famous people who changed the world. Colorful, kid-friendly illustrations combine with Adler's "expert mixtures of facts and personality" (Booklist) to introduce young readers to history through compelling biographies of presidents, heroes, inventors, explorers, and adventurers. These books are ideal for first and second graders interested in history, or who need reliable sources for school book reports.