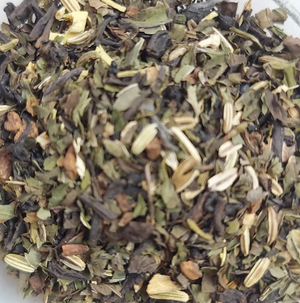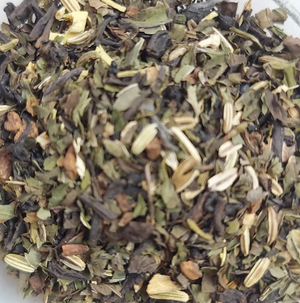 On Sale
Drop It Like It's Hot!
Introducing "Drop It Like It's Hot!" Herbal Weight-Loss Tea Blend – Your Journey to a Healthier You Begins Here!
Are you ready to embark on a journey towards a healthier, more vibrant you? Our "Drop It Like It's Hot!" herbal tea detox blend is your trusted companion for achieving your weight-loss goals and so much more. Crafted from a harmonious blend of organic ingredients, each renowned for its unique health benefits, this tea goes straight to work, targeting your gut, detoxifying your body, and supporting overall wellness.
Ingredients (all organic):
Cardamom:
Cardamom is known for its digestive properties, helping to soothe the stomach and reduce bloating. It contributes to improved gut health and smoother digestion.
Ginger:
Ginger is a natural metabolism booster that can help your body burn calories more efficiently. It aids in digestion and reduces inflammation, making it a valuable addition to your weight-loss journey.
Cinnamon:
Cinnamon not only adds a delightful flavor but also helps regulate blood sugar levels. Stable blood sugar can reduce cravings and support weight management.
Mint:
Mint is a refreshing herb that aids digestion and reduces bloating. It provides a soothing element to your tea, making it a pleasant experience.
Fennel:
Fennel seeds have appetite-suppressing properties and support digestion. They help curb cravings and promote a feeling of fullness.
Black Tea Leaves:
Black tea contains compounds that may enhance metabolism and contribute to weight loss. It also provides a gentle energy boost without the jitters associated with coffee.
Green Tea Leaves:
Green tea is rich in antioxidants, particularly catechins, which are known to boost metabolism and promote fat oxidation. It also supports overall health.
Health Benefits:
Weight Loss: "Drop It Like It's Hot!" tea harnesses the power of ingredients like Ginger, Cinnamon, and Green Tea Leaves to promote weight loss by enhancing metabolism, reducing cravings, and supporting fat oxidation.
Gut Health: Cardamom, Mint, and Fennel contribute to a healthier digestive system. They soothe the stomach, reduce bloating, and promote smoother digestion.
Inflammation Reduction: Ginger and Cinnamon are anti-inflammatory herbs that help reduce inflammation throughout the body, contributing to overall wellness.
Liver Health: Detoxification is key to weight loss, and this blend can help support your liver's vital role in detoxifying the body. Remember, your liver regenerates every seven years, so taking care of it is essential for long-term health.
Caffeine Difference: The caffeine in tea is different from that in coffee. Tea contains L-theanine, an amino acid that provides a calming effect, reducing the jittery feeling often associated with coffee. This allows for a more sustained energy boost and increased focus without the crash.
"Drop It Like It's Hot!" Herbal Weight-Loss Tea Blend is your passport to a healthier, more vibrant you. Unlike coffee, this tea blend targets the gut and intestines to remove waste and toxins, promoting effective detoxification. Make the switch to a healthier alternative, and experience the difference in your overall well-being.
Join countless others on the path to wellness today. Order your "Drop It Like It's Hot!" Herbal Tea Blend and take the first step toward a healthier, more energized you. Cheers to your journey to a healthier lifestyle!
Disclaimer

These statements have not been evaluated by the FDA. This product is not intended to diagnose, treat, cure, or prevent any disease. This tea should be in conjunction with a balanced lifestyle.