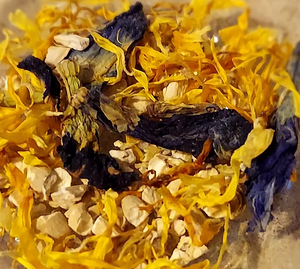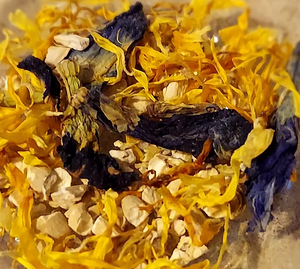 On Sale
Queen "B" ClariTea
Introducing "Queen B Clarity" Herbal Tisane - Your Key to Unleashing Morning Brilliance and Nighttime Tranquility!
Are you ready to awaken your inner queen or king and experience the clarity of thought and rejuvenation you deserve? Look no further than our "Queen B Clarity" herbal tisane, meticulously crafted to enhance your mental acuity, soothe your senses, and leave your skin glowing with vitality. This royal blend of natural ingredients is your secret to conquering both day and night.
Ingredients:
Ashwagandha: With a rich history spanning over 3000 years, Ashwagandha reigns supreme in the world of herbal remedies. Known for its stress-relief properties, Ashwagandha helps increase energy levels and improve concentration, allowing you to think straight and seize the day. It also contributes to a robust immune system and has even shown potential in inhibiting the growth of cancer cells.
Butterfly Pea Flowers: These stunning blue petals are your direct ticket to relaxation and enhanced cognitive function. Butterfly Pea Flowers work harmoniously with your neurotransmitters, inducing a sense of tranquility while boosting mental clarity. Say goodbye to stress, anxiety, and depression as your energy levels soar, productivity skyrockets, and you feel the soothing embrace of serenity.
Calendula Flower Petals: Calendula is your skin's best friend. Beyond its aesthetic charm, Calendula is a powerhouse of healing. It helps prevent infections, promotes tissue repair, and boasts exceptional anti-inflammatory properties. Let your skin radiate with health and vitality.
Health Benefits:
Morning Brilliance: Start your day with a cup of "Queen B Clarity" and watch as your mental fog dissipates. Ashwagandha and Butterfly Pea Flowers team up to improve concentration, reduce stress, and elevate your cognitive function, ensuring you're at your sharpest from the moment you wake up.
Nighttime Tranquility: As the day winds down, our tisane transitions into a soothing elixir that prepares you for a restful night's sleep. Butterfly Pea Flowers continue to work their magic, helping you drift into slumber with a peaceful heart and mind. Wake up feeling rejuvenated, ready to conquer the day ahead.
Skin Glow: Calendula Flower Petals offer a natural solution to skin health. Their anti-inflammatory and tissue-healing properties promote a radiant complexion that reflects your inner vitality.
Unlock the potential of "Queen B Clarity" Herbal Tisane and embrace the transformation it brings to your mornings and nights. Elevate your mental clarity, improve your skin's health, and experience the tranquil nights your soul craves.
Join the ranks of queens and kings who have harnessed the power of these timeless ingredients. Order your "Queen B Clarity" Herbal Tisane today and elevate your daily ritual to royalty status. Seize the day and sleep like a monarch, feeling reborn with each morning's light.
Disclaimer

These statements have not been evaluated by the FDA. This product is not intended to diagnose, treat, cure, or prevent any disease. This tea should be in conjunction with a balanced lifestyle.